The best cable management solutions for your desk
Now here are the two most dreaded words for a home office: cable management. I'm right there with you, seeing cables drive me crazy but attempting to organize them? It's maddening. In the past, my solution was merely to hide the cable mess with a piece of cardboard. I know, I know – don't judge. But seriously, cable management is really rough – for a few reasons:
We have so many devices these days and every device has its own cable.
A big issue for me has been that I frequently added/remove products from my setup. This means that my cable management has to be flexible.
Some cables are long, some are short, there's no real universal cable length.
After Mandy and I moved to Florida we swore we would ditch the cardboard and do some proper cable management. In our quest for better home office cable management we took a look at what The Container Store had to offer. Ultimately we spent around $75 on cable management products – which, to be honest, is actually a better price tag than I was expecting.
Bottom line is, you too, can make these improvements to your desk's cable situation for not much money.
Here's what we got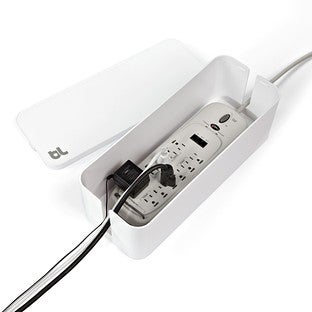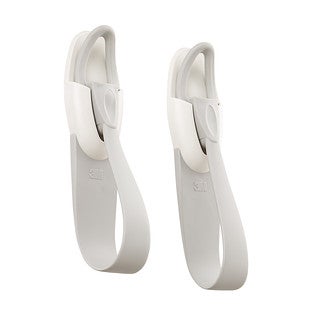 Bluelounge Cablebox
The Bluelounge Cablebox is a great product. It's big enough to fit even a large surge protector, yet sleek enough looking that you don't mind seeing it under your desk. I also love that there's still room to fit in miscellaneous cables in addition to the surge protector.
Self-gripping storage straps
The self-gripping storage straps and the hanging cable loft cord organizer work really well. I love the self-gripping straps because they are easy to do and undo, which is helpful if you need to remove old cables or run new cables beneath your desk (which I frequently need to do).
Loft cord organizers
We bought two of the loft cord organizers because my desk has two cable hole cutouts – we found it extremely useful to place each loft cable organizer by the cable hole cutouts to not only hold cables up (to keep them from hanging freely) but also as a way to keep power bricks and other eye sores out of view.
Command cord bundlers
These 3M command cord bundlers are really wonderful to stick on the bottom of your desk and run cables through. They keep the cables close to the top of the underside of the desk while also being easy to adjust.
Oval cable labels
These little oval cable labels are great. No more guessing which power cord you're about to unplug. No more sliding your finger from the beginning of the cable to the end to find the right one. Simply apply the labels to each cord and your life just got hella simpler.
As you can see, these products can really help you tame that mess of cables while still keeping them accessible for whenever you need to get at them. It's a best of both worlds approach because face it: we're all buying new tech all the time and that means more cables. With this approach to cable management you can easily add/remove cables without giving yourself an aneurysm.
Anyway, hopefully this helps with your web of cables under your desk. If you have any questions, comments, or things you think I should consider adding to the list let me know in the comments! Additionally, be sure to check out our guide on how to build the ultimate work from home setup – lots of good stuff in there!