How to build the ultimate work from home setup
We're living in a time where many of us will end up working from home for the foreseeable future. Google has said employees won't have to come back into the office until at least July 2021. Other companies have followed suite with similar announcements. Facebook is allowing employees to work remotely – from anywhere – the only requirement being you let Facebook know where you end up by the end of this year. With all these changes to the way people work I wanted to put together a guide on building the ultimate work from home setup – based on my many years of experience working from, you guessed it, home.
When you work from home it's important to have a dedicated space to work from. This is for a couple reasons: the first is because you need to be able to "disconnect" from work. Without a dedicated space, your entire home will start to feel like an office and that's not healthy. I really can't stress this enough. The second reason is because it will make you more productive. Instead of carrying a laptop around your home and doing some work from your couch or kitchen table having a dedicated space that you can make your own with the right products will absolutely boost your productivity. You will feel more inspired and comfortable, too.
But if you don't want to take my word for it, try the late Anthony Bourdain's, who wrote, "As a cook, your station, and its condition, its state of readiness, is an extension of your nervous system…[If you let it] get dirty and disorganized, you'll quickly find yourself spinning in place." While his words were directed towards cooking, they actually ring true for any work station.
Now that I (and Anthony Bourdain) have explained how important a dedicated work from home setup actually is, here are my favorite products that I've used to build the ultimate work from home setup.  
Chair and floor mat
Perhaps the most important thing you should be investing in for your work from home setup is a chair. In all my years of working from home I've found that having a great chair is crucial to an effective setup.
Haworth Zody Task Chair
My current chair of choice (and has been for the past 10 years – that's how long I've had this chair so far) is the Haworth Zody Task Chair. Other people may recommend Herman Miller Aeron chairs but the Zody is just as good and has a better starting price (you can find a brand new Zody starting at $684 compared to the Aeron's starting price of $1,395).
There are many things I love about the Zody. For starters, it's really comfortable to sit in for long periods of time (which is hella important). Even after 10 years of use and two moves, it has held up – both in terms of comfort and durability. Another thing I love about the Zody is a feature that you can opt for which allows you to lean forward and have the chair tilt forward with you. What's the big deal about that you ask? Well, it makes sure you maintain good posture even if you're leaning forward while working on your computer – something I find myself doing frequently, especially when I'm super focused.
Vitrazza Glass Chair Mat
Here's something you may not consider as an essential work from home product but I'm here to tell you it is. As someone who has ruined a rug or two, a chair mat is a really worthwhile investment (even if your chair will be placed on a hard floor). But don't get just any old plastic floor mat, I did that once a while back, and it broke within a few months – you want to invest in a glass floor mat.
Believe it or not, I actually heard about Vitrazza from a TV commercial. It looked so good I had to check it out for myself. Ultimately I ended up buying one – the rectangular model – and it's been wonderful. It looks great and it's such a smooth ride! I have to admit, I was worried my chair would slide around too much while working, but it doesn't – it doesn't slide at all (unless you want to).  
The rectangular mat comes in 12 different sizes, I got the standard 36" x 48" size with the Chiaro glass finish for $245 and it really does look fantastic. I really don't think you need to spend the extra $50 on the Luminoso finish – but whatever floats your boat. Another thing that concerned me was the glass cracking but according to Vitrazza all of their mats are tested to withstand up to 1,000 pounds (and I certainly don't weigh that much).
Vitrazza also offers different shaped mats including square, circular, and tabbed options. Yes, it's more expensive than a traditional plastic floor mat, but again, it's an investment in your home and your work.
Feel free to use coupon code AFF8 to save 8% on all glass mat orders.
Desk
How about a good desk? I can't stress enough the importance of finding a good desk that fits your needs. Things to consider: do you want a standing option? Do you need storage in the desk? How big of a desk do you need/have room for? Obviously all of these questions need answers before you can choose the right desk.
Autonomous SmartDesk 2
I've been using the Autonomous SmartDesk 2 for the past few years and have found it to be very good. It's certainly not perfect, but it works for me. Things I like about the SmartDesk 2:
It was fairly easy to assemble (took a little over an hour).
It's very sturdy.
It has a built-in motor to adjust the height (and includes the ability to set up to four preset heights).
They offer two table top sizes: 53" and 70" (I have the 70" and love it).
One area where the SmartDesk 2 lacks is storage. The desk doesn't offer any drawers, it's just a table top, legs, and a motor. That being said, desk storage, as I've learned, isn't absolutely necessary – if anything, not having desk drawers has forced me to be more focused about what I actually keep on my desk (hint: not much).
I would definitely encourage you to read our Autonomous SmartDesk 2 review for yourself before hitting the buy button. That being said, regardless of what desk you end up with, make sure you keep it clean and uncluttered.
Lighting
If you're wondering why I added lighting to this post it's because lighting is incredibly important and to date, I feel has been an under appreciated aspect of many setups (including my own). But not anymore! We're going to change all that – starting now.
As I wrote in my post where I detail how to create your own personalized light palette for your room:
We're currently living in a time where we're spending more time at home, it makes sense to invest in making your home or your room a more fun and appealing place to live. Over the course of your life you naturally want to make things your own. Everyone does it. From putting posters up on the walls of your childhood bedroom to choosing furniture for your home, it all reflects who we are at that time. Now, take that idea and apply it to the lighting in your home. Shouldn't your home lighting also reflect who you are and how you feel at the time? I say yes, it should.
Philips Hue
Gone are the days of sitting in pure white light, and frankly, good riddance! Your work from home setup needs colored lights. Our favorite colored LED lights are the Philips Hue. Here's some links for what you'll need:
A Philips Hue starter kit -- you need to start with the starter kit because it includes the bridge device which connects to your router.
Additional Philips Hue lights as necessary. They also make Philips Hue lights for recessed lighting as well.
The Philips Hue app.
Check out our Philips Hue review for more information, including details of how to setup the Philips Hue lights and get the most out of them.
Cable management
Now here are the two most dreaded words for a home office: cable management. I'm right there with you, seeing cables drive me crazy but attempting to organize them? It's maddening. In the past, my solution was merely to hide the cable mess with a piece of cardboard. I know, I know – don't judge. But seriously, cable management is really rough – for a few reasons:
We have so many devices these days and every device has its own cable.
A big issue for me has been that I frequently added/remove products from my setup. This means that my cable management has to be flexible.
Some cables are long, some are short, there's no real universal cable length.
After Mandy and I moved to Florida we swore we would ditch the cardboard and do some proper cable management. In our quest for better home office cable management we took a look at what The Container Store had to offer. Ultimately we spent around $75 on cable management products – which, to be honest, is actually a better price tag than I was expecting.
Here's what we got: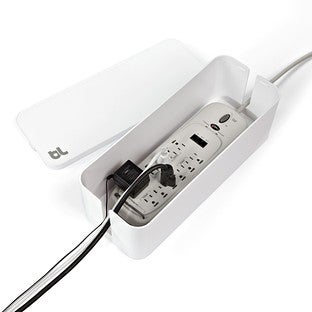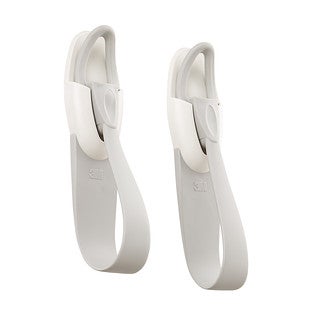 The self-gripping storage straps and the hanging cable loft cord organizer work really well. I love the self-gripping straps because they are easy to do and undo, which is helpful if you need to remove old cables or run new cables beneath your desk. We bought two of the loft cord organizers because my desk has two cable hole cutouts – we found it extremely useful to place each loft cable organizer by the cable hole cutouts to not only hold cables up (to keep them from hanging freely) but also as a way to keep power bricks and other eye sores out of view.
Accessories (external storage, speakers, headphones, microphone, etc)
Ok so we've covered your environment – the chair, floor mat, desk, lighting, and cable management. Now what? All the accessories you need to function optimally.
External storage
I use a LaCie 2big Dock Thunderbolt 3 drive. It is available in four storage configurations: 8TB, 16TB, 20TB, and 28TB and unlike previous 2big external drives where different configurations had different classes of hard drives, LaCie used the same enterprise-grade drives in each configuration which is nice. Each 2big Dock comes standard with two 7200-RPM Seagate IronWolf Pro enterprise-class hard drives (Seagate owns LaCie by the way) which boast 440MB/s read/write speeds.
I have had the 20TB model for 3 years now and it has served me quite well. It's fast and I love how it has a USB-A port as well as built-in SD and compact flash card readers right on the front making it easy to import new videos from my GoPro. The drive is fairly quiet when not being accessed but when it's consistently being accessed it is definitely audible – meaning you can hear the drive reading/writing data. Not a deal breaker for me though.
For more information about the LaCie 2big Dock Thunderbolt 3 external drive, check out our review. Starting price for the 8TB model is $600 while the 28TB retails for $1,300.
Speakers
I don't understand people who listen to music without proper speakers – I just don't and likely never will. But we're building the ultimate work from home setup and we need a good pair of speakers to rock out with while we work (like I'm doing right now listening to Taylor Swift's "I Know Places").
In July 2018 I bought a pair of the KEF LS50 Wireless speakers, which are essentially a powered version of the KEF LS50's meaning they don't require an amplifier – you just plug them directly into your computer via USB. I love, love, love these speakers. They are truly high quality speakers designed with people like me in mind. In my experience with the LS50 Wireless speakers, what's really exceptional is the separation between the treble and mid-range and how well you can hear different instruments–it's like each instrument is coming out from its own location. If you close your eyes and just listen, it's like the music is being played right in front of you – the soundstage is magnificent.
For even more information about the KEF LS50W speakers, check out our review. Starting price for the LS50W speakers is $1,799, however, if you're not prepared to shell out that much cash, KEF also offers a less expensive model called the LSX which start at around $1,249 which I've heard good things about as well.
Headphones
I have way too many headphones – but the lately there are two pairs I have been using more than others while at my desk. A good pair of headphones can make all the difference in terms of productivity. It's really useful to be able to "lock in" and just pound away at the keyboard while listening to some good music.
For example, I've had this new song by The Night Game (the guy behind this band, Martin Johnson, is the former front man of Boys Like Girls) on repeat recently, check it out:
Anyway, I digress! Lately I've been loving the Master & Dynamic MW60 (the latest model is the MW65) and the HiFiMAN Ananda-BT headphones. They have both been my go-to while at my desk. Both sound incredible and are super comfortable to wear for extended periods of time.
The HiFiMAN Ananda-BT headphones produce a beautifully balanced sound with a spacious soundstage. You can read more about them in our full review. They are literally the best audiophile-grade bluetooth headphones currently on the market. Starting price for the HiFiMAN Ananda-BT headphones is $999.
The Master & Dynamic MW65 headphones offer a nice, warm and rich sound with extreme comfort. I can literally keep these things on my head for hours. Starting price for the Master & Dynamic MW65 headphones is $450.
Oh! And don't forget a super cool headphone stand! I use a Luxa2 headphone stand (in silver). Unfortunately it doesn't seem like they sell it currently on Amazon, however, they do have the same stand in gold and rose gold. You can find it here. I also recently came across this headphone stand by Nivava which features an RGB LED strip built-in to the stand. It also sports a 3.5mm jack for headphones as well as 2x USB ports.
It definitely looks sleek af. You can pick one up for $30 on Amazon which isn't much more than the price of the Luxa2 headphone stand ($23).
Microphone
Now with everyone working from home you need a good microphone for all those Zoom meetings. You don't want to be the "hold on, my mic isn't working properly" person, do you? Of course not! The good news is that you can buy a great mic for a relatively reasonable price. I recently swapped out my old Blue Yeti mic for an AKG Lyra microphone and I love it.
The AKG Lyra is the perfect microphone for the ultimate work from home setup – it's a USB-C mic with ultra-HD quality audio which is a market-y term for saying it supports up to 24-bit/192kHz high-resolution recording. It also features four different mic-array modes to provide the sound you're looking for. I personally use the Tight Stereo setting along with some minor gain adjustments and it sounds great on my podcast.
You probably notice that I have the mic hanging from a boom arm in this picture – a boom arm for a microphone is another fun way to make your work from home setup even better. I like them because they keep the mic off your desk which is good to avoid potential vibrations from you sitting or standing at your desk. Plus, it makes it incredibly easy to move your mic around depending on what you're doing. I often let my mic hang close to me so it's always ready to go but there are also times when I want to push it towards the back of my desk and away from me – this is what a boom arm is great for.
While the AKG Lyra does come with its own stand that you can place on your desk, if you should choose to buy a boom arm (which you should!) then take a look at the Blue Compass. It's the best-made boom arm I've come across – it's well-built and it uses a locking mechanism to keep the arm's height in place. I've never had an issue with it and I figure if it can hold a Blue Yeti mic up, then it's got to be able to hold up the much tinier and lighter AKG Lyra.
The AKG Lyra is priced at $150 on Amazon and the Blue Compass boom arm retails for $99 on Amazon.
Throwboy Pillows
These aren't just any pillows – they're throwboy's. Throwboy is a designer throw pillow company with a focus on making pillows that remind us of our favorite tech products. You can buy a pillow of the classic 1998 turquoise iMac, 2007 iPhone, 2001 iPod, 1977 Apple II, and more.
I personally bought the Finder icon and YouTube subscribe pillows for my office. Both pillows are well made and extremely soft. I love them. Plus they add really nice flair to the office – and they're hella fun.
Celebration Gong
A celebration gong – I know what you're thinking, "Jeff have you lost your mind?" Ok, so hear me out: a friend of mine got this gong for me as a gag gift but it's actually turned into something I really like using to celebrate wins big and small.
Here's the one I have, it's $16 and totally worth it. Mine sits on the corner of my desk. Don't knock it til you try it!
Stay tuned for updates
We will be continually updating this post with more products and ways to build out the ultimate work from home setup but for now, we hope this is a good starting point for everyone. If you have something you think we should add to our post please feel free to leave a comment!
Comments
Sign in or become a BestTechie member to join the conversation.
Just enter your email below to get a log in link.